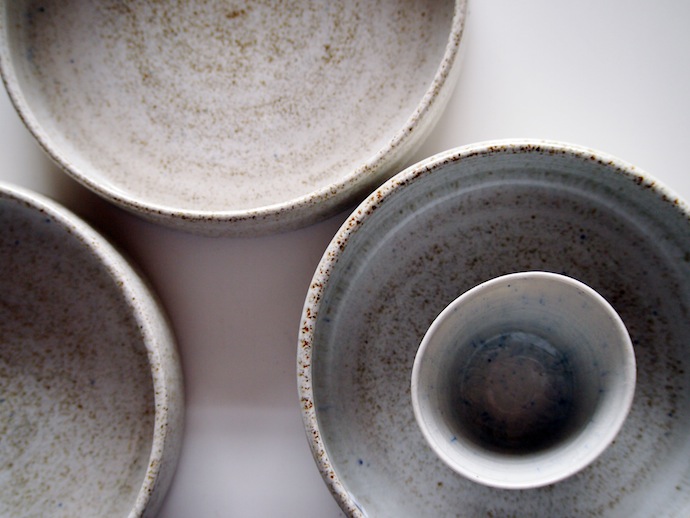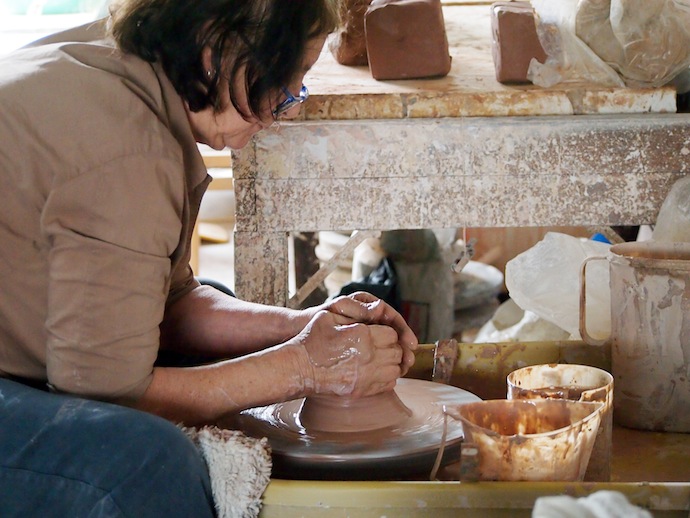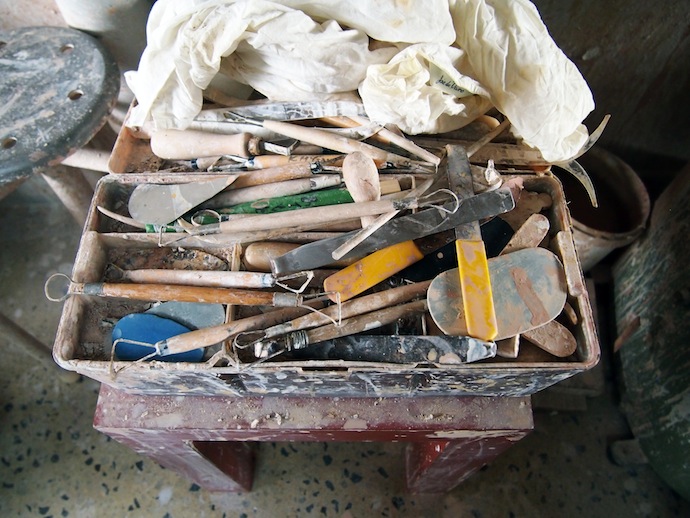 I liked ceramicist and sculptor Valerie Restarick immediately, when she didn't want to sell me the beautiful stoneware bowl that was proudly displayed in her little studio-shop.
"Are you sure?" she asked, hugging the bowl tightly to her belly. "Have you seen the price?"
The price was actually quite reasonable. Admittedly it was 100 percent of the birthday money I had burning a hole in my pocket, but that wasn't a whole lot anyway.
"How do you plan on using it?" she pushed further. I felt like I was auditioning for the role of Person Worthy Of Owning Bowl, which perhaps I was.
Two weeks later I returned to Valerie's studio, this time armed with my camera.
From the front of the shop, Valerie selected a lovely vase, one of her favourite pieces. She held it up to the light. There was a wonderful texture to it, an almost lava-like pattern of swirls, that Valerie said was the result of a "smoking" process that had required a special kiln.
I asked if I could take her photograph holding the piece and, when she seemed a little reticent, I suggested, "Maybe just your hands?"
"I hate my hands!" Valerie grimaced. I looked. I thought her hands were beautiful. They were skilled, and strong, and had made every piece in that studio and shop. All that we surveyed.
I snapped some more pictures of Valerie's clever and capable hands as she picked up a new lump of clay. Then I turned and started clicking around the shop while we settled in for a little chat, our conversation punctuated by the stop-start hum of the potter's wheel.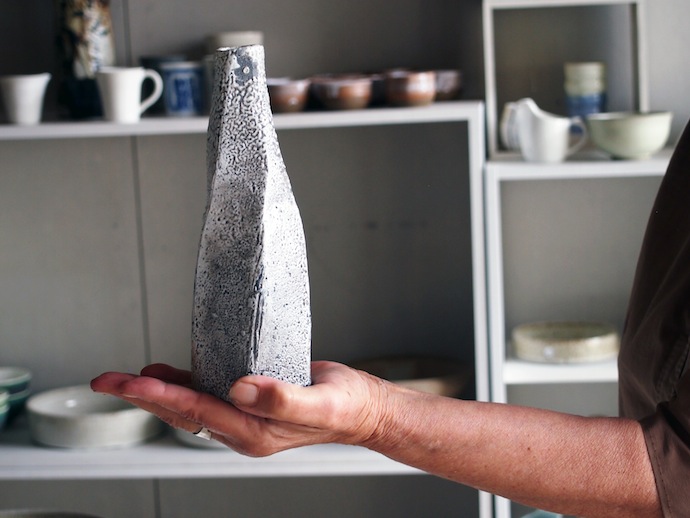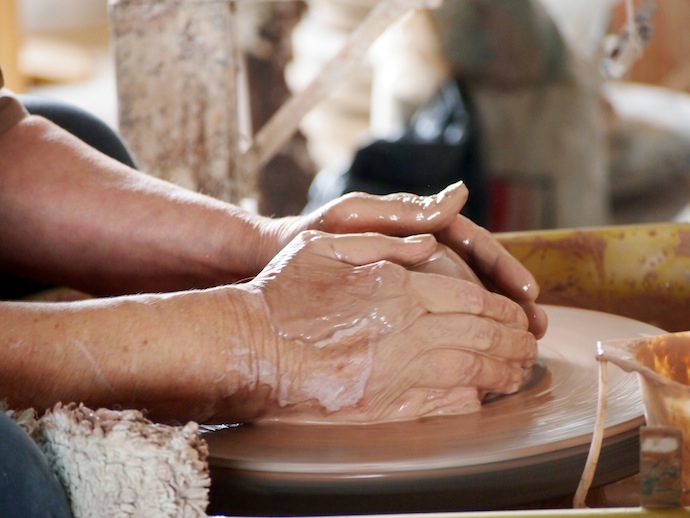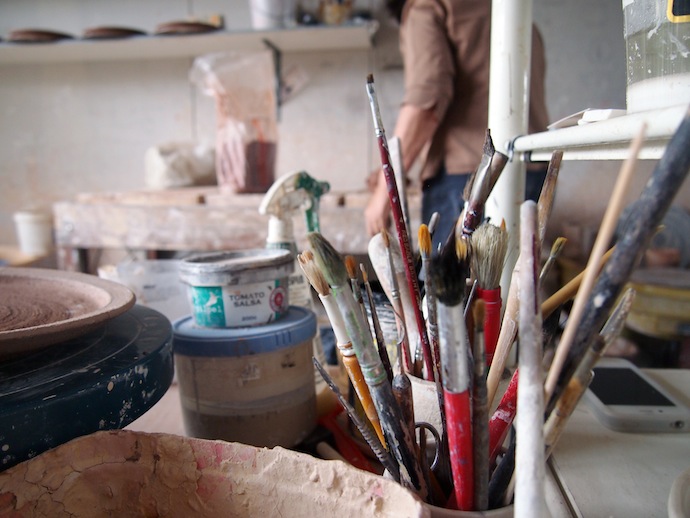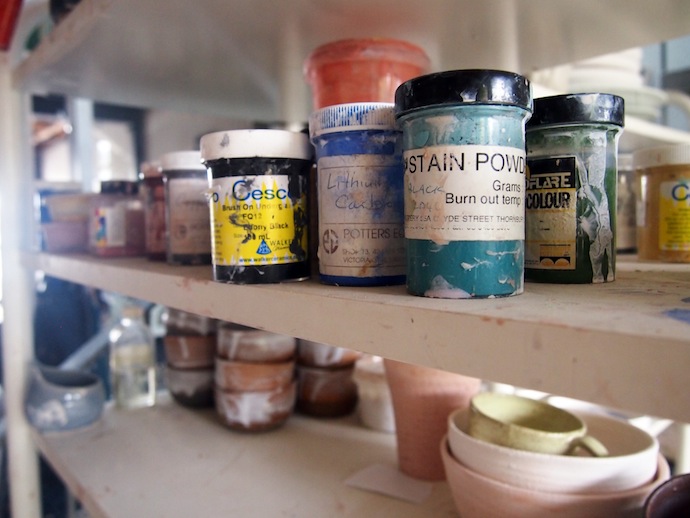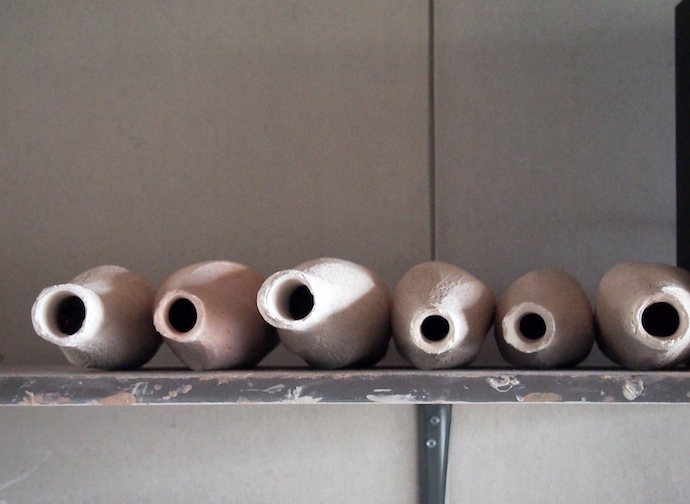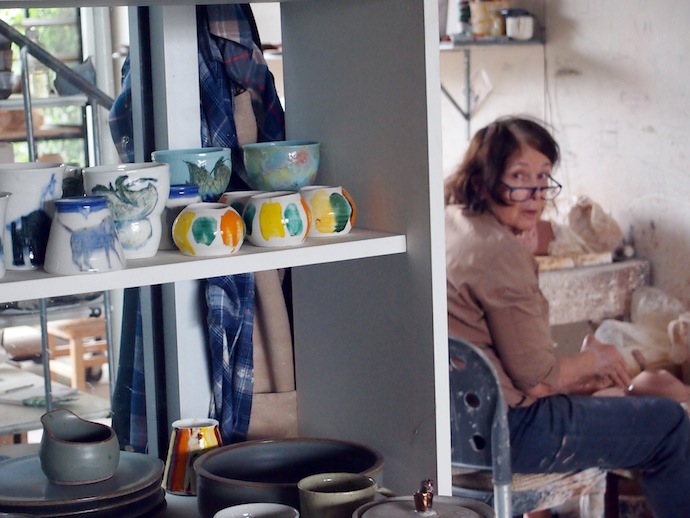 Me: Where do you find inspiration for your work?
Valerie: Inspiration can come from anywhere, I don't actively go out looking for it. I might see something in a magazine, or someone else's work might trigger an idea and I take it in my own direction.
I did a series of mummified cats after seeing a documentary on DVD that I borrowed from the library – purely by chance because there was nothing else I wanted to watch – about Joanna Lumley taking a journey down the Nile.
So how do you decide what to make next?
I just make what I like. I don't have one particular style, or stick to any specific items, so I'm free to create whatever I like at the time. I didn't expect to sell any of those cats, but I sold all of them. I was happy about it at the time, but now I miss them. They're all gone.
I love how passionate you are about your work.
When I first put my 'crown of thorns' pieces out someone asked me how much one of them was and I said it wasn't for sale. He couldn't understand it. He said, "Why would you put it on display if you don't want to sell it?" But even if you don't want to sell your work, it's good to share it.
A man bought a lot of the mummified cats to use in a restaurant in Canberra. But so far they're not displayed in that restaurant, they're in his house. I don't like that. I want them to be shared. Otherwise what's the point?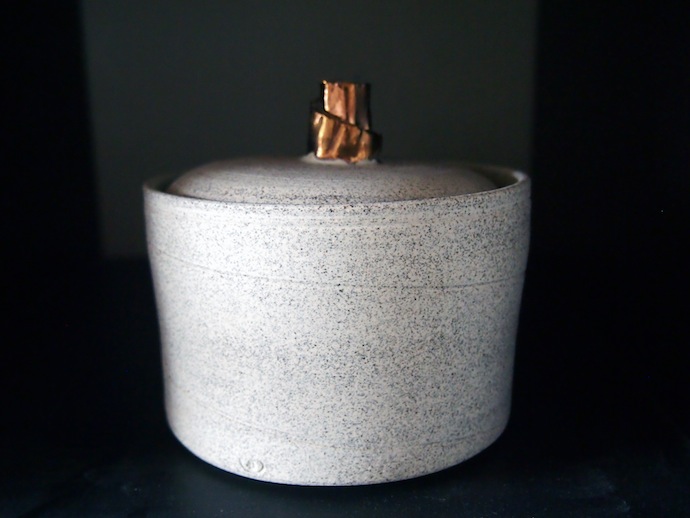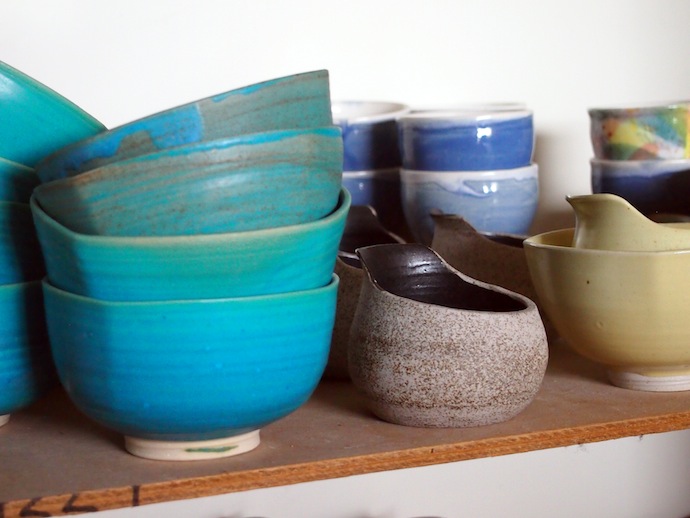 Was it always ceramics?
I am dyslexic, and so are both of my children. When you're dyslexic, you grow up with very low self esteem. You grow up thinking you're dumb. I was never good with words, so I used my hands instead. Lately I've been getting a lot of recognition for my work which is nice, I guess. But that's not why I do it.
Can you give me some tips on how you overcome creative block?
I never experience creative block. I'm pretty lucky, aren't I? When I'm not doing a series like the mummified cats or the crowns of thorns, I make the plates and cups and bowls.
How about managing work-life balance?
What is that?
You know, carving out time to be creative, as well as all the other things and relationships in your life that need your time.
My work is my life. I think… I think this is my time. I don't have a man around, my children are grown up, I can do this for me. I spend all my days in this studio. I feel lucky, I've done all that other stuff, now I can focus on what I want to do.
Before I go, is there one piece in here that you'd pick out as your favourite, so I can photograph you holding it?
That bowl. It's in your house.